Tiffany Tandecki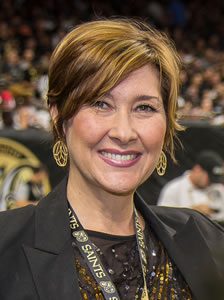 As program manager for the Peoples Health Champions program, Tiffany Tandecki directs and produces the program's videos and TV commercials. She also manages game-day activities and special events.
Tandecki is the assistant director of marketing for Peoples Health, where she directs advertising and marketing campaigns and provides creative and strategic direction to the marketing team. She manages athletic sponsorships, including marketing activation and branding elements for the New Orleans Saints, the New Orleans Pelicans, LSU, Southern University and Nicholls State University. She serves as executive producer for film productions, including plan member testimonial commercials, and provides creative direction for member photo shoots. Tandecki has won Public Relations Society of America Awards of Excellence and Healthcare Advertising Awards for Peoples Health TV campaigns.
With over 15 years of marketing experience, Tandecki previously served as marketing manager for Peoples Health. In that role, she developed and produced marketing campaigns for print and television.
Prior to joining Peoples Health, Tandecki was the director of marketing for Simon Property Group, where she developed marketing strategies for the New Orleans Centre and coordinated the centre's community and promotional events. She received the International Shopping Center's Maxi Merit Award for her direction and design of the centre's Super Bowl XXXVI media party for over 4,000 members of the international media, and she received a Tele Award for video production.
Tandecki graduated from Louisiana State University, where she received a Bachelor of Science in business administration, with minors in mass communications, sociology and history. She served as vice president of the Mothership Foundation Board, whose flagship program is the Mid-City Bayou Boogaloo.